(Fighting Fantasy (1982-1995, Puffin) edition)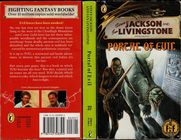 (Original (Dragon, Bronze text, Number spine only), UK 1989 3rd printing (C&W) [3rd])

(Original (Dragon, Bronze text, Number spine only), UK 1989 3rd printing (C&W) [3rd])

(Original (Dragon, Bronze text, Number spine only), UK 1989 3rd printing (C&W) [3rd])

(Original (Dragon, Bronze text, Number spine only), UK 1989 3rd printing (C&W) [3rd])

(Original (Dragon, Bronze text, Number spine only), UK 1989 3rd printing (C&W) [3rd])
View:
Combined Summary
Series:
Fighting Fantasy (1982-1995, Puffin) — no. 37

Translated Into:
Brána zla (Czech)
La Nuit des mutants (French)

Author:
Darvill-Evans, Peter

Illustrators:
Gallagher, David (Dave) (cover)
Langford, Alan (interior)

Dates:
1989 (Original (Dragon, Bronze text, Number spine only), UK 1989 3rd printing (C&W) [3rd])
February, 1989 (Fighting Fantasy (1982-1995, Puffin) edition)

ISBN:
0140328394 / 9780140328394

Length:
400 sections

Special Thanks:
Original (Dragon, Bronze text, Number spine only), UK 1989 3rd printing (C&W) [3rd]:
Thanks to James Thompson for the cover scans.

Guillermo's Thoughts:

Peter Darvill-Evans wrote only three gamebooks, all of which were part of the Fighting Fantasy series: Beneath Nightmare Castle, Portal of Evil and Spectral Stalkers. Of these three, I found Portal of Evil to be by far the weakest, but that doesn't mean it's a bad book at all.

The adventure is set in the southwestern part of the continent of Khul, in the forest range between the cities of Neuburg and Zagoula. However, the storyline is completely unrelated to that of the author's previous work, Beneath Nightmare Castle. This time, the plot revolves around the mining business in the mountain range near the forest. Strange dinosaur-like creatures have suddenly begun to appear and they have been attacking the settlers and miners in the unnamed forest. A reward has been offered for a warrior who can investigate the origin of this menace and put an end to it. As is usual, the lure of a profitable job turns into an epic quest against an enemy who wants to control the entire world of Titan.

I wouldn't go so far so as to call the book 'mediocre' as some other reviewer has, but to my taste, this is the least creative of all three Darvill-Evans books. The book is divided in roughly two halves: one deals with your exploration of the forest and some of the lands surrounding it, and in the other you are transported to another dimension in order to combat the main villain. The writing is very good for a Fighting Fantasy book, managing to add a bit of colour to the characters and conveying an effective atmosphere at every point in the adventure. The game design is also adequate, but way too orthodox. In fact, Portal of Evil seems to be a rarity among the other titles in the series which were released at about the same time; at this stage in the development of the FF series, almost every title was trying it best to be innovative and groundbreaking. Portal of Evil, on the other hand, seems intended for people who are beginners to gamebooks in general. The book is much more linear than is usually the case in this series and while the adventure is not without its challenge level, it still feels a bit easy compared to the other titles. The first part of the adventure consists of following a series of largely linear paths, looking for help and items which will turn out to be useful to complete the quest, while having some interesting encounters. One of the problems I found with it is that if the character manages to survive long enough, s/he will be given all the information needed to obtain all the items which will increase his/her chances of success. This sense of being "led by the hand" through the book did not help to increase my interest in the adventure. The second part of the adventure is far weaker. There are dinosaur-like creatures, but they are not very interesting opponents. There is also a native culture which almost totally lacks character development. As a result the second part of the adventure felt way too dull for me, even if it was not without its ingenious moments.

The main problem with the book is that it feels rushed, especially towards the end. While the first part is competently developed, the second one feels like it could have used more strategy and a longer path through it (this is one of those books which feels like it could have used a bit more than 400 paragraphs). It also doesn't help matters that there are very few effective linkages between the two parts; the first one seems unrelated to the second, and thus there is little in one part that serves to set the stage for the final one.

On the positive side, the book is a fun read and will fulfill the needs of those looking for a fantasy quest that is not that hard. To sum it up, it's an enjoyable but largely average adventure, which falls short of the potential shown in Darvill-Evans' previous work, Beneath Nightmare Castle. It's not an awful read, but it's not very memorable either. My advice would be to give priority to Beneath Nightmare Castle and Spectral Stalkers, which show much more creativity than this book.

Special Thanks:
Thanks to Nicholas Campbell for the cover scan.
Users Who Own This Item:
aehalpin, Alatar001, AlHazred, andyr, Aniline, B0N0V0X, badboybaggins, BarefootJimmy, Barker1952, bigcobra, Citanul, Count Heydrich, crazydave, crispybacon, CSquared, Cyan, c_wickham, damieng, dArtagnan, Darth Rabbitt, dave2002a, dblizzard72, Demian, demon of the deep lt, devilsboy, Dirk Omnivore, domj29, Eamonn McCusker, EarlOfDrumer, Ed, edwebb, egokun, Erikwinslow, firefoxpdm, Fireguard, Gamebook, Gartax, gnomeza, greyarea13, Guillermo, Gurvo, Haoie, Harvey, Hobgoblin48, Ian2405, Icedlake, Janner, jdreller, jeff3333, Joe_TC, jr, juski (UK first edition), katzcollection, khaxzan, killagarilla, kinderstef, knginatl, le maudit, lek, liam0404, Malthus Dire, marnaudo, MasterChief, mir1812, mlvoss, Narananas (Dragon numbered spine), nelsondesign, nerelax, Nich, Oberonbombadil (Bronze dragon), odo_ital, Office Linebacker_, Osirian08, outspaced, Pessimeister, peterm2, Pirrakas, plowboy, Pseudo_Intellectual, qazplm (Dragon black writting), Radjabov, redpiper05, Rozo, ryderark, Salpynx, Samus (Toronto), Seizure, Sheridan77, sick_boy, Sir Olli, sireeyore, skeleton, Smidgeccfc76, StagQuests, strawberry_brite, Tamerlane1396, terrysalt, ToucanJams, Treguard, Tremendez, twar, Twoflower, umbra682000, Vampireman, Virtua Sinner, Wardog, Yalius, zat, Zolika
Users Who Want This Item:
Avenger, bbanzai, bookwormjeff, breity, Citadel1963, cuenca007, domchamon, Ffghtermedic, gryff, horrorbusiness, kjk.tk, Lambchop, Mr ?, mrwalker, NEMO, Nomad, nordik, snakefire77, ThisIslandEarth, truce57, Von Scotty, Waluigi Freak 99, xinuz
Users with Extra Copies:
AlHazred
Cyan
devilsboy
strawberry_brite
twar - (UK) Named penned on inside front cover. Erased pencil on character sheet. Good copy.
Yalius
Known Editions
Fighting Fantasy (1982-1995, Puffin) edition
Original (Dragon, Bronze text, Number spine only), UK 1989 3rd printing (C&W) [3rd]
Related Documents
Play Aid
Fighting Fantasy #37 Character Sheet
Thanks to Ben Nelson for providing this file.