(Original (Zigzag))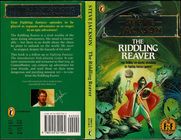 (Original (Dragon), UK 3rd printing (C&W) [3rd])

(Original (Dragon), UK 3rd printing (C&W) [3rd])

(Original (Dragon), UK 3rd printing (C&W) [3rd])

(Original (Dragon), UK 3rd printing (C&W) [3rd])

(Original (Dragon), UK 3rd printing (C&W) [3rd])
View:
Combined Summary
Series:
Fighting Fantasy: The Introductory Role-Playing Game

Translated Into:
O saqueador de charadas (Portuguese)
Tyven med de tusind tricks (Danish)

Authors:
Mason, Paul
Williams, Steve

Illustrators:
Jones, Peter Andrew (cover)
Williams, Brian (interior)
Hartas, Leo (cartography)

Dates:
1986 (Original (Zigzag))
1987 (Original (Dragon), UK 3rd printing (C&W) [3rd])

ISBN:
014032156X / 9780140321562

Special Thanks:
Original (Dragon), UK 3rd printing (C&W) [3rd]:
Thanks to James Thompson for the cover scans.

drystan's Thoughts:

It's a classical fantasy adventure, and it owes a lot to the Fighting Fantasy Gamebooks style. But it's neverthless amazing!

Quite linear in its development, it surely recalls another art of writing (thinking, thus) RPG material, as The Riddling Reaver is the little masterpice of an excellent artisan, rather than a ultra-commercial sterotyped product, like the D&D or the World of Darkness ones.

It's basically a sequence of dungeons, or overland locations, the party has to explore, fighting powerful and sometimes whimsical enemies (until you finally confront the mischevious Riddling Reaver), collecting strange and wonderful magical artifacts, and solving the riddles the Reaver leaves through your path to challenge the party and put it in danger.

There are also some intriguing twists to the plot, just to keep the stakes high for the players.

So, Paul Mason and Steve Williams are fine bards, indeed! [Thanks to Demian for correcting my wrong attribution of The Riddling Reaver to Mr. Steve Jackson]

Users Who Own This Item:
aehalpin, Alarion, Alatar001, AlHazred, andyr, Aniline, Avenger, B0N0V0X, bonhomme, crazydave, CSquared, Cyan, c_wickham, damieng, dArtagnan, dave2002a, dblizzard72, demon of the deep lt, devilsboy, Dirk Omnivore, domj29, drystan, Eamonn McCusker, EarlOfDrumer, Ed, edwebb, Erikwinslow, Fearmint (1st Imp.), firefoxpdm, Fireguard, GaborPivarcsi, Gallicus (Zig-Zag), Gamebook, Gamebook Collector, Gibraltar, greyarea13, Haoie, Harvey, Ian2405, Icedlake, jeff3333, Joe_TC, jr, juski (UK first edition), katzcollection, khaxzan, kinderstef, le maudit, lek, liam0404, Luke, Malthus Dire, MasterChief, mattender, MaxSpender, mlvoss, nelsondesign, nerelax, Nich, Oberonbombadil, odo_ital, Office Linebacker_, Osirian08, outspaced, Pessimeister, peterm2, plowboy, Pseudo_Intellectual, Radjabov, redpiper05, Rozo, rpatel1976, ruflixy, ryderark, Ryuran333, Sabreman, Salpynx, Seizure, Sir Olli, sireeyore, snakefire77, StagQuests, strawberry_brite, terrysalt, Treguard, twar, Twoflower, umbra682000, Vampireman, waktool (First printing (zig-zag)), Wardog, Yalius
Users Who Want This Item:
Braldt, domchamon, Gallicus (Foil; non-Foil), Gartax, NEMO, yermither, zat
Users with Extra Copies:
Alarion
Cyan
devilsboy
kinderstef
Luke
twar - (UK) Small creases on front cover. Very good copy.
Known Editions
Original (Zigzag)
Original (Dragon), UK 3rd printing (C&W) [3rd]