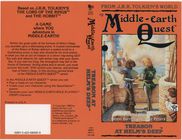 (Proof copy (cover only))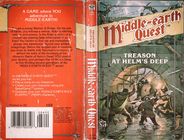 (1st printing)

(1st printing)

(1st printing)
View:
Combined Summary
Series:
Middle-earth Quest — no. 6

Translated Into:
El abismo de Helm (Spanish)
Tradimento alla fortezza (Italian)
Traicao no abismo de Helm (Portuguese)
Verrat in Helms Klamm (German)

Authors:
Barrett, Kevin
Peters, Saul

Illustrators:
McBride, Angus (cover)
Forton, Gerald (1st printing - interior)
Savoy, Carolyn (1st printing - cartography)

Dates:
Unpublished (Proof copy (cover only))
1988 (1st printing)

ISBN:
0425086909 / 9780425086902

Length:
341 sections plus prologue. (1st printing)

Special Thanks:
1st printing:
Thanks to Luke Sheridan for the cover spread scan and title page verso image.
Proof copy (cover only):
Thanks to Luke Sheridan for the scan.

User Summary:
The events in this book begin on the eve of the Battle of Helm's Deep against Saruman's forces. You are a young Rohirrim warrior and a member of the Hornburg garrison. One night you spy one of your commanders turning military information over to the enemy. Will you enter the secret tunnel that leads to the Westfold and attempt to prevent the information from reaching Sauron's army? Or will you remain at the Citadel to help with the defense and possibly unmask the traitor?
Guillermo's Thoughts:

(review based on the Spanish translation)

Instead of the interesting exploration and movement, map-based system of the previous book, this one uses the more standard gamebook format of numbered sections with "turn to" instructions. It's a good book, although it has serious flaws. Let's start with the good parts. The adventure is, for the most part, exciting, interesting and well-written. The book manages to include a lot of player agency (since there are many different possibilities to experience depending on the choices you make) while preventing the basic events from deviating from those described in the second The Lord of the Rings novel, The Two Towers. The adventure makes use of all the player character's ability scores, and it includes combat, nonplayer character interaction, and even a bit of dungeon exploration. Since a substantial part of the adventure involves participating in the Battle of Helm's Deep, there is a lot of combat involved, and a weak character may have a difficult time prevailing. For this reason, my advice would be to try this book with a character with high combat attributes (if possible, one with experience earned in other books in this series).

Unfortunately, a combat-heavy adventure such as this makes the flaws of the combat system show more. It's possible even for weak opponents to defeat the player character with a single blow if the dice go against him / her, which only serves to increase frustration and is simply a result of a badly-designed combat system. The adventure also has serious design flaws, such as instances where simply choosing to go down one corridor or failing one skill check lead to instant death.

Despite these problems, the adventure is entertaining and it might be worth trying more than once, since there are many possible ways the story turns out depending on your decisions and some random (but not illogical) outcomes. It's not a classic of interactive fiction, but it's an interesting proposal and can be recommended.

Special Thanks:
Thanks to Guillermo Paredes for the plot summary.
Users Who Own This Item:
Alatar001, AlHazred, andyr, Ardennes, auximenes, B0N0V0X, BarefootJimmy, bigcobra, bookwormjeff, breity, Citanul, Crazyscotsman, CSquared, dave2002a, DeKoovenWolf, Ed, Erikwinslow, firefoxpdm, Florik, Fullerton (ICE, Berkley), Gartax, Grifter, Himynameistony, hoops4ever, jdreller, Jubal, katzcollection, kinderstef, knginatl, laltharith, le maudit, lugh, Malthus Dire, mattender, mlvoss, nelsondesign, nerelax, Oberonbombadil, ooklathemokk, outspaced, peterm2, Pseudo_Intellectual, Robert Mammone, rowns, Sabreman, Sheridan77, Sir Olli, sireeyore, SkarnTasKai (ICE), spragmatic, StagQuests, Tremendez, twar, waktool (US 1st), Xelforp, xinuz, Yalius, Zolika
Users Who Want This Item:
Braldt, dblizzard72, killagarilla, mir1812, NEMO, Nomad, Pirrakas, rowns, SkarnTasKai (Berkley), Twoflower, Von Scotty, xinuz, zat, zumanji
Users with Extra Copies:
rowns
twar - 1 copy with pencil markings and some page creases (old dog ears...ARG!) Map still intact.
Known Editions
Proof copy (cover only)
1st printing
Related Documents
Play Aid