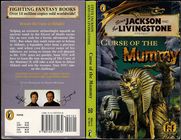 (Original (Dragon, Black text), UK 1st printing (Clays) [1st])

(Original (Dragon, Black text), UK 1st printing (Clays) [1st])

(Original (Dragon, Black text), UK 1st printing (Clays) [1st])

(Original (Dragon, Black text), UK 1st printing (Clays) [1st])

(Original (Dragon, Black text), UK 1st printing (Clays) [1st])

(Wizard S1 (Special), UK printing (C&W))
View:
Combined Summary
Series:
Fighting Fantasy (1982-1995, Puffin) — no. 59
Fighting Fantasy (2002-2007, Wizard Books Series 1) — no. 27
Fighting Fantasy (2009-2012, Wizard Books Series 2) — no. 14

Translated Into:
A maldição da múmia (Portuguese)
La Malédiction de la Momie (French)

Author:
Green, Jonathan

Illustrator:
McKenna, Martin

Dates:
October 26, 1995 (Original (Dragon, Black text), UK 1st printing (Clays) [1st])
April 5, 2007 (Wizard S1 (Special), UK printing (C&W))

ISBNs:
0140375538 / 9780140375534 (Original (Dragon, Black text), UK 1st printing (Clays) [1st])
1840468025 / 9781840468021 (Wizard S1 (Special), UK printing (C&W))

Length:
400 sections

Special Thanks:
Original (Dragon, Black text), UK 1st printing (Clays) [1st]:
Thanks to James Thompson for the cover scans.

Braxus's Thoughts:

I always thought that Fighting Fantasy (and gamebooks in general) needed more Egyptian-themed books. To me, the tombs, mummies and mystery really captures the whole element of these books.

Unfortunately, however, this book is a bit of a mixed bag. On the good side, you will immediately be able to engage with the setting since it is rather similar to the film The Mummy. The storyline is brilliant as you must solve puzzles to enter the tomb and find the evil pharoah.

But, and this is a big but, it's just far too hard. The amount of impossible battles (15 mummies all in one go at one point...) and sudden endings mean this book will be very frustrating and will take many, many tries to get through. By many I mean at least 20, perhaps.

Overall, this is not really recommended except to the diehard gamebook fans. If you want something that is very difficult, but also a lot of fun, try Creature of Havoc.

Special Thanks:
Thanks to Ben Nelson for the character sheet scan and Nicholas Campbell for the reissue cover scan.
Users Who Own This Item:
aehalpin, Alatar001, andyr, Aniline, Avenger, B0N0V0X, badboybaggins, BarefootJimmy, Barker1952, bigcobra, cayh_dilg, Citanul, CSquared, c_wickham, dArtagnan, dave2002a, dblizzard72, DeKoovenWolf, demon of the deep lt, devilsboy, Dronak (1st reissue Special Limited Edition), EarlOfDrumer, Ed, edwebb, egokun, Erikwinslow (Series1), Fido815, firefoxpdm, Fireguard, Gallicus (Limited Edition), Gamebook, Gamebook Collector, Gibraltar, gnomeza (Puffin), greyarea13, gryff, Himynameistony, Hobgoblin48, horrorbusiness, Ian2405, Icedlake, jeff3333, juski (UK first edition), katzcollection (original), khaxzan, kinderstef, knginatl (orig., UK reissue) (orig., UK reissue), le maudit, lek, liam0404, Malthus Dire, MasterChief, mir1812, mlvoss, Narananas, nelsondesign, nerelax, Nich, Oberonbombadil (Original) (Wizard S1 Special ed.), odo_ital, Office Linebacker_, Osirian08, outspaced, Pessimeister (dragon edition), peterm2, Pirrakas, qazplm, Radjabov, Rozo, ryderark, Sabreman, Sadosky guillaume, Seizure, Sheridan77, Sir Olli, sireeyore, Smidgeccfc76, Tamerlane1396, terrysalt, tonk82, Treguard, Tremendez, Trompe-l Oeil, Twoflower, Vampireman, Wardog, Yalius, Zolika
Users Who Want This Item:
bbanzai, bookwormjeff, crazydave, CSquared, Cyan, demon of the deep lt, domj29, EarlOfDrumer, Faberwest, Ffghtermedic, frosty88, Househeart, jdreller, jr, killagarilla, kjk.tk, Lambchop, Mr ?, mrwalker, NEMO, nerelax, Nomad, nordik, ObliviousSLoth (Looking to buy), Pseudo_Intellectual, Ryuran333, Samus, Smidgeccfc76, snakefire77, ThisIslandEarth, truce57, twar, Twoflower, umbra682000, Uraniborg, Vampireman, Von Scotty, Waluigi Freak 99, wildtiger_aakash, zat
Users with Extra Copies:
devilsboy - email me if you intrested in buying
MSG
nelsondesign
Known Editions
Original (Dragon, Black text), UK 1st printing (Clays) [1st]
Wizard S1 (Standard), UK printing (C&W)
Wizard S1 (Special), UK printing (C&W)
Wizard S2 (Large, Embossed)
Related Documents
Article
Fighting Fantasy: Curse of the Mummy Changes
This article from Nicholas Campbell compares the original and reissued editions of Curse of the Mummy.
Play Aid
Fighting Fantasy #59 Character Sheet
Related Links
La Malédiction de la Momie
This impressive effort is an unofficial fan translation of Fighting Fantasy #59 into French. This is the only title in the series that wasn't released in France, so French-speaking fans should be happy!
http://www.chez.com/dagonides/ (last verified: 2004-06-09)