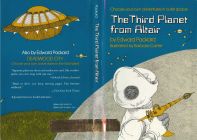 7. The Third Planet from Altair
Reissue Title: Message from Space
British Alternate Title: Exploration Infinity
Author: Edward Packard
Illustrators: Barbara Carter (Lippincott Original and Exploration Infinity interior illustrations), Geoff Hunt (Exploration Infinity cover), Don Hedin (credited as Paul Granger) (this series interior and first cover)
First Published: November, 1980 (earlier edition published in April, 1979, Exploration Infinity published in 1982, reissue published in August, 1989)
ISBN: 0-397-31827-8 (Lippincott regular edition), 0-397-31884-7 (Lippencott library binding), 0-553-13978-9 (early CYOA printings), 0-553-20980-9 (later CYOA printings), 0-553-23185-5 (even later CYOA printings), 0416244505 (Exploration Infinity)
Length: 117 pages
Number of Endings: 38
Library of Congress Summary: The reader, en route to the third planet from Altair to seek the source and meaning of extraterrestrial messages, is given choices to make determining the course of the spaceship and the survival of the crew.
Plot Summary: When alien signals are detected coming from a planet orbiting the distant star Altair, you are asked to travel into space to find their senders. On your journey you are accompanied by Captain Bud Stanton, Professor Henry Pickens, and Dr. Nera Vivaldi.
Collected In: Choose Your Own Adventure Box #2
Translations: Dutch, Italian, Spanish (North America)
My Thoughts: This is an above average science fiction gamebook with an interesting story and excellent internal consistency. Before becoming part of this series, it was released by Lippincott. The book was also released in England as a stand-alone book called Exploration Infinity. I have the Lippincott library binding edition in my collection, but I lack Exploration Infinity. For those interested in examining the structure of the book, Ace High sent in an Excel spreadsheet showing a map of the book's sections.