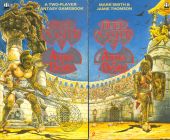 View:
Series:
Duel Master — no. 4

Contains:
Arena of Death (Book 1) (Gamebook)
Arena of Death (Book 2) (Gamebook)

Translated Into:
Arena di morte (Italian)

Authors:
Smith, Mark
Thomson, Jamie

Illustrators:
Kirby, Josh (cover)
Davis, Jon (interior)

Date:
1987

Users Who Own This Item:
Alatar001, andyr, Aniline, B0N0V0X, BarefootJimmy, bigcobra, bookwormjeff, Braldt, chicagoshane (Unopened box set ), Cyan, damieng, dave2002a, DeKoovenWolf (Book 2 ), Ed, edwebb, Gamebook (Both), Gartax, greyarea13 (My favourite of this series. Set in the Arena of Mortavalon that first appears in Way of the Tiger 1.), Ian2405, juski, karalynn, katzcollection, kinderstef, le maudit (need the odd-numbered book), MacbthPSW, Malthus Dire, maxz, mir1812, mlvoss, nelsondesign, Nich, Office Linebacker_, outspaced, peterm2, plowboy (book 1), Radjabov, Sheridan77, Sir Olli, sireeyore, skeleton (only the left hand one >:| ), spragmatic, Threepwud, Zolika
Users Who Want This Item:
BobaGabe (two player), Gibraltar, Jubal, killagarilla, liam0404, narrativium (I have a copy of #2. I need a copy of #1 to complete it!), Pseudo_Intellectual, twar, Virtua Sinner
Users with Extra Copies:
bigcobra
peterm2 - I have an extra copy of "Arena of Death" #1
Please log in to manage your collection or post a review.