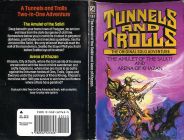 View:
Series:
Tunnels and Trolls

Contents:
The Amulet of the Salkti (Solitaire Adventure)
Arena of Khazan (Solitaire Adventure)

Translated Into:
L'amuleto dei Salkhti / L'arena di Khazan (Italian)

Illustrator:
Kirby, Josh

Date:
1986

ISBN:
0552127655 / 9780552127653

Special Thanks:
Thanks to Braldt Haak for the cover scan.
Users Who Own This Item:
Alatar001, AlHazred, bigcobra, Braldt, CSquared, dave2002a, Ed, Gamebook, greyarea13, JamesMulgrue, katzcollection, kinderstef, lugh (a bit beaten and bruised, but intact at least!), marnaudo, mir1812, mlvoss, nerelax, outspaced, plowboy, Pseudo_Intellectual, Sheridan77, Sir Olli, sireeyore, spragmatic, Treguard, waktool
Users Who Want This Item:
Dharmaforone, NEMO, twar
Users with Extra Copies:
dave2002a
lugh
outspaced
Sheridan77
Please log in to manage your collection or post a review.