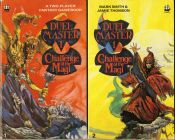 View:
Series:
Duel Master — no. 1

Translated Into:
Majutsushi no chousen [魔術師の挑戦] (Japanese)
La sfida dei maghi (Italian)

Authors:
Smith, Mark
Thomson, Jamie

Illustrators:
Kirby, Josh (cover)
Davis, Jon (interior)

Date:
1986

Length:
800 sections (split across both books)

Users Who Own This Item:
Alatar001, Aniline, B0N0V0X, bigcobra, chicagoshane (book set - need the map), Cyan, damieng, dave2002a, Ed, edwebb, Gamebook (Both), gnomeza, greyarea13, Ian2405, JoshW, juski, karalynn, katzcollection, killagarilla, killagirilla, kinderstef, le maudit (need the odd-numbered book), liam0404, Malthus Dire, maxz, mir1812, mlvoss, nelsondesign, Nich, Office Linebacker_, outspaced, peterm2, plowboy, Pseudo_Intellectual (even-numbered book only), Radjabov, rolipo26, Ryuran333, Sheridan77, Sir Olli, sireeyore, skeleton, spragmatic, twar, Virtua Sinner (I have to admit, this is one of my favourite games. Just love the theme!), waktool (Book 1, UK 1st printing; Book 2, UK 1st printing), Zolika
Users Who Want This Item:
Braldt, Gartax, Gibraltar, Jubal, kleme, narrativium, NEMO, Rozo
Users with Extra Copies:
Cyan
plowboy - (book 1)
Please log in to manage your collection or post a review.
Related Documents
Play Aid