Please log in to manage your collection or post a review.
View:
Item-Level Details
Translated Into:
Condamné au dénuement (French)

Adapted Into:
Naked Doom (Digital Gamebook)

castiglione's Thoughts:

I used to HATE playing this adventure. Part of the reason was because when I was playing Tunnels & Trolls, I was obsessed with getting as many "goodies" (magic weapons, armor and items) as possible for my players. Unfortunately, at the beginning of Naked Doom, you lost all those nifty doo-dads. Not to mention everything else including the shirt off your back.

Thus the title.

Naked Doom was the 4th solitaire adventure published by Flying Buffalo, and it was penned by Ken St. Andre, the designer of Tunnels & Trolls. The plot of this adventure is simple - you were caught committing some crime, and the penal system in the city of Khazan (part of the "official" game universe in which Tunnels & Trolls takes place) is dead simple - borrowing a leaf from the future envisioned by Robert Heinlein (with a dash of Running Man), punishment is IMMEDIATE. Instead of being publically flogged or hung (as in Heinlein's vision), the criminal in Khazan is taken down into some catacombs, stripped of all his possessions including any bit of clothing he has and then told to "Run, dog". If he doesn't run, he risks being turned into a human pin-cushion. Did I mention that the people telling him to run are archers from the city's militia who give him a couple of seconds before they unleash a volley of arrows at his (hopefully quickly receding) back?

From there, the adventurer proceeds through a...yep, a dungeon. The twist this time is that your presence in the dungeon is explained (you were either caught committing a crime or framed) and that the only weapons you have are your bare hands and your wits. If the adventurer manages to exit the dungeon alive, he wins his freedom and is considered "rehabilitated" as far as the boys in blue of Khazan are concerned.

I remember this dungeon was EXTREMELY tough, mainly due to the presence of a very tough troll who took a lot of killing (especially since one had to resort to punching his lights out instead of skewering him with a sword). A LOT of my characters died in this dungeon (a fact which may have contributed to my disliking it when I was young). However, on the plus side, the characters that DID survive usually came out "supercharged" which is why I inflicted this adventure on myself as much as I did.

Looking back on this adventure NOW, I think I'd probably enjoy it a lot more. I'm not so concerned with loading down my characters with the most supercharged weapons, etc. that they can find. Instead, I'm more interested in having FUN and the story that develops as my adventurer attempts to exit the catacombs. And it was definitely a step forward in that it provided a backstory to explain exactly WHY one's character was in the mess he was in.

Special Thanks:
Thanks to Ed Jolley for pointing out that the second edition of this book added paragraphs 2E, 3E, 6E, 14E, 16E, 19C, 19D and 20A-D.
Users Who Own This Item:
bigcobra, castiglione, dave2002a, Ed (orig and reissue), firefoxpdm, katzcollection (reissue), kinderstef, le maudit, marnaudo, nerelax, Pseudo_Intellectual, rebeltech2, reddibaggie (A5 & A4 version), redpiper05 (Strange 2nd ed 1979), Sir Olli (small fourth printing & large original & large reissue)
Users Who Want This Item:
NEMO (orig.&reissue), twar
Users with Extra Copies:
rebeltech2
Tunnels and Trolls edition

Omnibus edition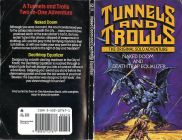 Please log in to manage your collection or post a review.