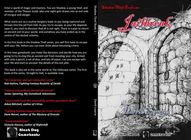 View:
Series:
Shadow Thief — no. 1

Author:
Lowrie, David

Illustrator:
Lowrie, David

Date:
March 5, 2020

ISBN:
9798618004930

Length:
150 sections

hadlee73's Thoughts:

Fighting Fantasy-esque primer for a new series. So you very quickly end up in jail at the beginning of this book... that wasn't very long, was it? Oh, but wait, you're only getting started. With only a few tools of your thief trade which you managed to hide from the guards (probably best to use your imagination as to where you stuffed them, ahem!) you need to make your way out of prison without getting caught... or, if you do get caught, nobble the guards so they can't stop you from leaving. There's quite a bit going on in this jail, too, so it's worth exploring around to find a few subplots and even someone who might help you during your escape.

It's a fun book, but be prepared for some gruesome deaths if you mess up... the author, Mr Lowrie, does love a good, bloody death scene. At around 150 sections this book is a primer for something bigger in the near future, but feels like a satisfying little adventure on its own. Recommended! :)

Special Thanks:
Thanks to the author David Lowrie for the cover images.
Users Who Own This Item:
hadlee73, Sheridan77, Sir Olli
Please log in to manage your collection or post a review.