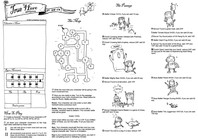 View:
| | |
| --- | --- |
| Series: | Miscellaneous Works by Robertson Sondoh Jr. |
| Author: | Sondoh Jr., Robertson |
| Date: | 2007 |
| Length: | 1 page |
| User Summary: | This is a single-page diversion, reminiscent of (but simpler than) PageQuest. You create a character with two stats (HP and AP), wander through a maze fighting monsters, and try to come out alive and with as many items and experience points as possible. The tongue-in-cheek adventure is available online as a free download. |
| Demian's Thoughts: | I like the idea of a single-page gamebook; it's an interesting constraint to stimulate creativity, and it was used to great effect in PageQuest. This is a less ambitious undertaking, having a simpler combat system and a fixed map, but it's still an entertaining diversion for the few minutes it takes to find the optimal path to gain the most experience. The amusing illustrations don't hurt, and you can't beat the price of free. |
| Special Thanks: | Thanks to the author for letting me post the full game here (just click the graphic). |
| Users Who Own This Item: | katzcollection, SkarnTasKai |
Please log in to manage your collection or post a review.
Related Links
True Hero Minigame
You can download the True Hero Minigame here.
http://experimentalplayground.blogspot.com/2008/09/true-hero-minigame.html (last verified: 2008-12-13)