Please log in to manage your collection or post a review.
View:
Item-Level Details
KenJenningsJeopardy74's Thoughts:

Here is a true game-player's gamebook. Enhanced with a full, complex interactive system along with a cast of characters fleshed out in impressive detail to help you on your colony-building expedition, The Seventh Expert combines education, skillful novelization, and gaming elements as involved as anything I've ever come across to make a unique interactive adventure, equally appropriate for use in classrooms, at small parties, or just for a diversion while hanging out with friends.

It is 1362 A.D. The Little Ice Age has unleashed havoc upon your village by the sea, killing many and destroying the town's structure beyond repair. These furious tempests are increasing in frequency, you observe, and as one of the town's most levelheaded and respected young citizens, you powwow with other unofficial leaders and decide the time has come to move inland in search of a safer permanent location. Marshaling the brightest and wisest minds of what once was your hometown of Port Haven, the remnants of your decimated seaside town set off to start anew, and it isn't long before you arrive at a seemingly ideal location: a green valley fed by a central river snaking through it, promisingly suited for gardening, fishing, farming, the raising of livestock, and even setting up fortifications to defend against attack, should military maneuvers become necessary. Concurring with the assessment of your six main advisors, you cautiously settle in the valley and set about preparing for the bleak winter ahead.

"Oh, my friend...we must put forth the effort in times such as these to keep our spirits alight, otherwise there is nothing but despair."

--Marcus Wainwright, The Seventh Expert, P. 15

What will happen as you while away the years trying to survive in New Haven? Land is never free, not even in Medieval times, and a prime settlement in such a lush valley isn't likely to go unchallenged by those in authority. An earl or duke who thinks he has rightful claim to occupy the land, or at least to tax its inhabitants, could cause strife within and without your modest little town. There are big choices to be made as you work hard year after year to make New Haven a permanent, autonomous residence capable of surviving against disease, drought and other mishaps, both natural and manmade. Are you willing to relinquish half your assets every year in recognition of some nobleman's local authority, even as it decreases your odds of living through another harsh winter? Are passersby welcome to settle in New Haven alongside the townspeople you already know and trust from your days in Port Haven, or might they have in mind to steal the hard-earned fruits of your labor? As time drifts by and you close in on year seven of the New Haven project, the finish line that marks success (at least as far as this book is concerned), your problems increase and so does your people's need. But there's a reason you were respected enough to be acknowledged leader of the movement to find a permanent inland living arrangement for the orphaned progeny of a town wiped off the map by a berserk storm. You never flinched away from conflict or hardship before, and you aren't about to now. Making it through seven years of establishing New Haven means you've done your job, you've validated your friends' trust in you and guided them through the greatest disaster of their lives. There is ample reward to being a good leader, and if you survive to the happy end of The Seventh Expert, you'll enjoy a little of that feeling. Here's to you and your six loyal co-experts, for persevering in spite of temptation to give up and let every man fend for himself, and building a positive legacy in an uncertain world that will benefit your descendants for years to come.

The gaming elements of The Seventh Expert are rather complicated, enough so that I'm sure I didn't play it completely as mandated by the rules. I hope that didn't influence the outcome of my game, as it wasn't terribly challenging to make it to the end without my town folding up or surrendering to greedy nobility. The basic rules are reasonably simple to comprehend, points being allotted to represent your community's available Effort and Supplies at the start of each new year. An extensive "Experts Catalogue", full of requests from your six closest advisors as to what they think should be the focus of labor during the course of the next year, provides plenty of ways to spend your points, but be careful: squandering them on expensive items that aren't directly food-related could spell doom for your New Haven. Working to fortify the fledgling town against bandits, thieves, and soldiers ordered to tax you to death at the behest of wealthy landlords is a good idea, but should probably be of secondary focus. From year one through to the end, I planted vegetables and healing herbs in the maximum quantities allowed, and grabbed every additional opportunity I could to produce food for my town. The Seventh Expert urges readers to use up all Effort points allotted each year if possible, but I wouldn't be too concerned about that, and I definitely wouldn't spend them if it ultimately diminishes Supplies, which are New Haven's lifeblood. First make sure you have an abundance of food, which will keep your Effort and Supplies levels high each year, and then try to craft protection against outside attack, building up your Defense points. Remember, if you survive to the end of year seven with a high enough Supplies level, you'll have led your people to the promised land and won the game. This may be "only" a book, but it's a satisfying feeling, nonetheless.

Mark Oakley is a good writer, imagining quite a varied, realistic and likable cast of characters for a story as brief as The Seventh Expert. Gameplay is the main concern here, I think, but the well-written narrative leads readers to care more than if the game were concentrated on at the expense of quality story components. I appreciate the sincere ambition that surely drove the creation of The Seventh Expert, and while the game aspects were complex enough to confuse me a number of times, I enjoyed the book. Some of the stray facts that popped up on the sides of pages were intriguing pieces of historical information I had never heard, and complimented the narrative well, a bonus to the story. If it's an educational interactive storytelling experience you're after, take a look at The Seventh Expert.

Users Who Own This Item:
jdreller, Sheridan77
The Seventh Expert edition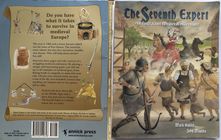 Please log in to manage your collection or post a review.