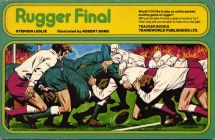 View:
Series:
Tracker Books — no. 9

Authors:
Leslie, Stephen
Stephenson, Murray

Illustrator:
Bond, Robert

Date:
1978

ISBN:
055256009X / 9780552560092

Special Thanks:
Thanks to Daft Skeleton for the cover scan.
Users Who Own This Item:
Egghead Nurse, knginatl, marnaudo, skeleton
Users Who Want This Item:
AlHazred, horrorbusiness, kleme, marnaudo, NEMO, Nomad, Pseudo_Intellectual, waktool
Please log in to manage your collection or post a review.