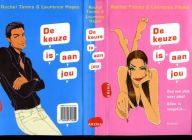 View:
| | |
| --- | --- |
| Series: | De keuze is aan jou |
| Translated From: | Whatever You Want (English) |
| Translator: | van der Lingen, Dominique |
| Date: | 2003 |
| ISBN: | 906974564X / 9789069745640 |
| Length: | 461 pages (262 sections) |
| Braldt's Thoughts: | This book is different from what you would expect. Most CYOA novels are set in a fantasy / SF world where the reader has to make choices until he finds the end of the dungeon and gets out alive. But in Whatever You Want there are no monsters to fight (with exception of the blue elephants in your head after a night out), no dungeons to escape from (with exception of the bedroom of the ugly blond you ended up with yesterday evening), and no dice to roll. Whatever You Want is set in modern day England, where you decide how the story goes. Males and females can read the book, since there is an ingenious way in the start of the book to determine if you are M/F. The plot then continues, where you decide after each paragraph, either to: Kiss the girl ... Drink more ... or ... The book is not for those with high-moral standards, but on the other hand, if you come on a page that may be a bit more arousing than your taste would be ... remember you made the choice that made you turn to this page. The story is good; it's fun to read (even if it would not be a CYOA novel). There could be some more roads - alternative plots - in the story, which would make it more interesting to read it the eighth time. The Dutch translation is done very well. |
| Special Thanks: | Thanks to Braldt Haak for the cover scan. |
| Users Who Own This Item: | Braldt |
Please log in to manage your collection or post a review.