View:
Item-Level Details
| | |
| --- | --- |
| Adapted From: | Legend of Zagor (Gamebook) |
| Errata: | This (for the time) quite hi-tech boardgame based on the book of the same name did not sell well, probably due to its very high price tag for a boardgame. The game came with a myriad of card play tokens as well as 22 plastic miniatures and various 3D environments. Gameplay was controlled by an electronic chip that periodically and randomly spoke commands to the players. |
| Special Thanks: | Thanks to Mark Lain for the box image. |
| Users Who Own This Item: | Malthus Dire, sireeyore |
Fighting Fantasy Board Games edition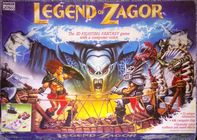 Please log in to manage your collection or post a review.
Related Links
BoardGameGeek: Legend of Zagor
This page has detailed information (including many photographs) on the Legend of Zagor board game.
https://boardgamegeek.com/boardgame/3794/legend-zagor (last verified: 2018-12-28)